Whether you're traveling on location for a big Reality TV show or you're planning a small corporate video, proper execution comes down to being prepared.
I love the pre-production phase of a shoot! I'm kind of a nerd for it. Breaking down a script? My favorite. Creating the shot list? Nothing makes me happier. Handling contracts and paperwork. All over it. Because I know that a shoot will not be successful and the DP won't get that killer shot and the director can't do his creative thing  if we don't show up prepared. We need to have permits, bring the right equipment and the Audio Tech shouldn't be on the other side of town because he didn't get the revised call sheet.
Planning and communicating all the details beforehand allows for the production phase to be filled with creative energy and leads to a successful final project.
An absolute must for your best shoot day, although it is often overlooked:
Imagine showing up to a shoot location and the building security won't let you in because your name isn't on his visitor list for the day. You can't find the name of the location contact because it's buried in a thread of 50 emails. The CEO you're supposed to be interviewing has already been waiting an hour because he wasn't told the proper time to arrive. And your crew is lost trying to find the loading dock and parking.
This is a terrible way to start a shoot. You're already way behind, crunched for time and everyone is beyond annoyed before you even set up the first shot. However, one little document could have saved the day. Yes, you guessed it. The Call Sheet!
A call sheet should be used for every shoot, no matter the size of the crew. Call sheets help to make sure everyone is on the same page about the most important logistical details. You want to make sure it covers the Who, What, Where, When and Why of the shoot. Who is supposed to be where, at what time and for what purpose.  The sheet should include everything from the shoot location, the weather, the time the crew and talent need to arrive to the breakdown of the schedule, general notes, and contact information for everyone. That includes everyone that could possibly be involved with the shoot or affect the shoot in anyway, if you have their number add it to the sheet!
The call sheet doesn't have to be fancy. It can be, and you can add as much information as you'd like, but it can also be really simple like this great example: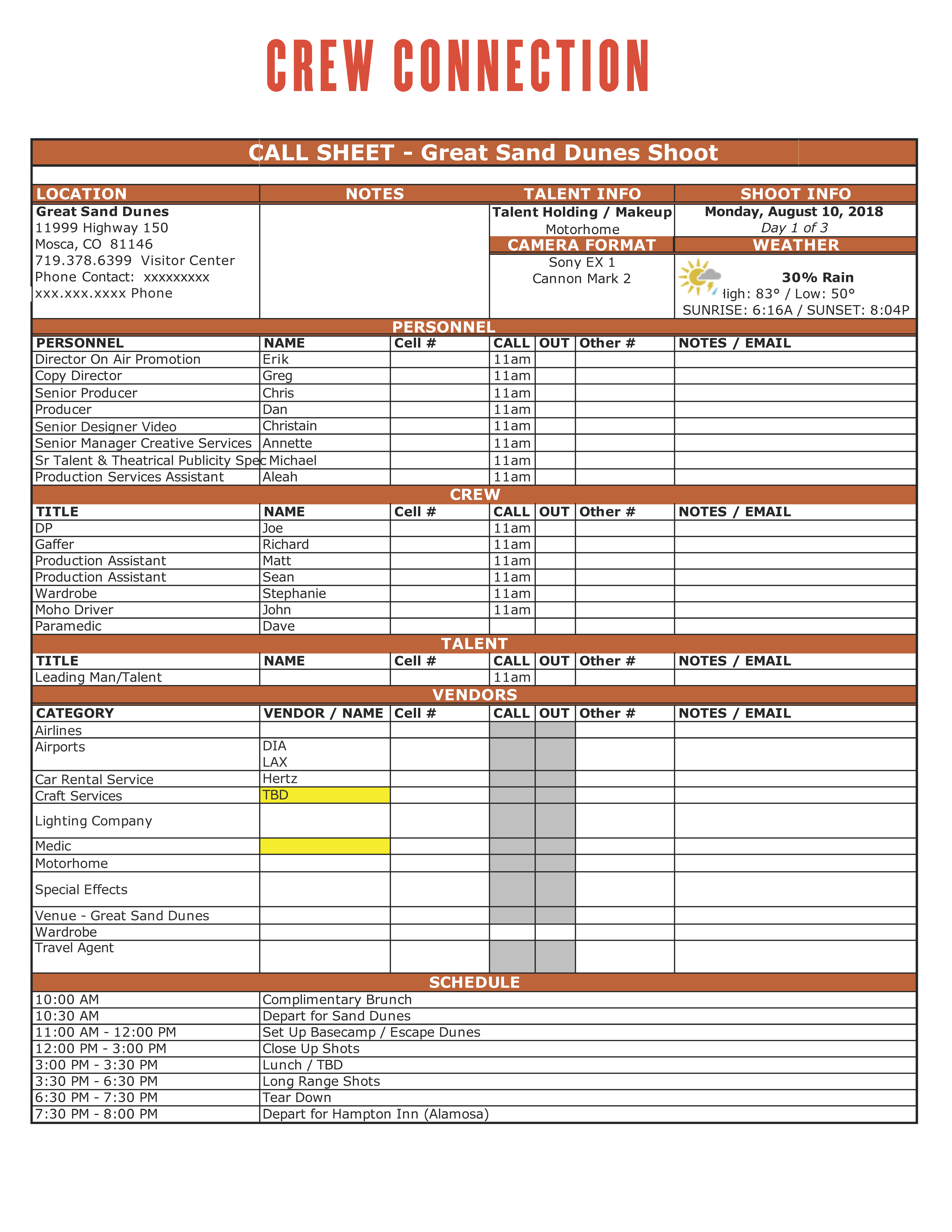 A smooth shoot also comes down to effective communication. It may sound basic, but little things can get overlooked and cause a lot of confusion without detailed communication. It's best to send the call sheet as a pdf in a new email thread and ask everyone to reply "Got it." This way everyone is clear and exactly on the same page.  You also don't want to have ongoing conversations in the Call Sheet thread. Create separate emails for questions between your team and the crew, so when you're on site the pertinent information will be easy to pull up.
It's really important to reply to your crew when they have questions. Sometimes we can get so distracted about information that we find important that we can disregard other peoples' questions. So, if your crew is asking something about cables or room dimensions, be sure to help find the answers they need before you get to the location. Going over these details on set might wind up being a little too late.
If you've just spent the last few weeks nailing down permits, securing talent and planning that perfect sunset shot, don't blow all that hard work by not properly communicating the specifics to your crew! It also saves you 50 text messages day of about shoot details. You can always just say, "Refer to the call sheet!" And everyone's on the same page.