You just created your Super Bowl commercial and paid $5.2 million for your spot, what are you going to do now? If you're like the most talked about brands of the year, a lot.
In our social media driven world, agencies are creating an immersive experience beyond the Super Bowl ad itself. Today, brands are spending a minimum of $175,000 per second of air time and launching marketing campaigns that begin before the game and fuel conversations long after it ends. They engage viewers in content, conversation and a little controversy.
Among many Super Bowl ads people are calling "safe" this year, these 3 surprising trouble-makers emerged to steal the spotlight.
Battle of the Brews: Bud Light vs. Miller Lite & Coors Light
In a bold move, Bud Light decided to pit themselves against their light beer competitors by pointing out the use of a popular ingredient: corn syrup.  In a surprise twist, Americans care very little about corn syrup in their beers. They are, however, very passionate about corn, corn farmers, and not acting like a jerk.
Before Bud Light knew what was happening, social media was blowing up with posts from the National Corn Growers Association, tweets from farmers and videos of Bud Light being poured down the sink and dumped in the trash. A clear line had been drawn in the sand. In a move meant to poke fun, Bud Light lost sight of their target audience and sparked a major #corntroversy in the process.
Our Marketing Manager at Crew Connection, Alexis Gabel, made an excellent point that if you're going to spend millions of dollars on a Super Bowl commercial you have to "anticipate the conversation that will ensue and if it could have a negative impact on your brand. The conversation surrounding Bud Light very well may have negated that not so inexpensive 60 second spot." And with no clear follow-up strategy from Bud, Miller Lite was unintentionally presented with an amazing marketing opportunity without having to spend a dollar in advertising and Tweeters loved it!

Meanwhile, Bud Light looks like your jerk friend trying to start an insult fight after too many beers. The consumer has more influence to make or break your brand than ever before. Don't let your competitors "Miller Lite" you by being unprepared for the conversation.
Devour Commits to their Racy Addiction
The brand most unapologetically committed to their campaign was Devour Foods – by a long shot. The brand took the term "Food Porn" to an entirely new level, a level that was too high for some. However, their marketing strategy is unwavering.  Their ads started with teasing posts about the censored Super Bowl ad itself, continued with the promise of more risqué content being released on social media and then flooded their Twitter feed with a series of live tweets and videos packed with enough "That's what she said" innuendos that Michael Scott would be jealous.

The ongoing videos, racy tweets and flirtatious comments have fans continuously engaging with the brand, even 3 days after the Super Bowl. The highly amped uncensored version of the commercial now has nearly 16 million views on YouTube alone. Accompanied by the decision to promote themselves on adult-themed websites, Devour has carved out its brand and is sure to be remembered.  While many got a kick out of the innuendo-packed ad, a lot of parents were beyond upset that such adult geared content was played in front of their children.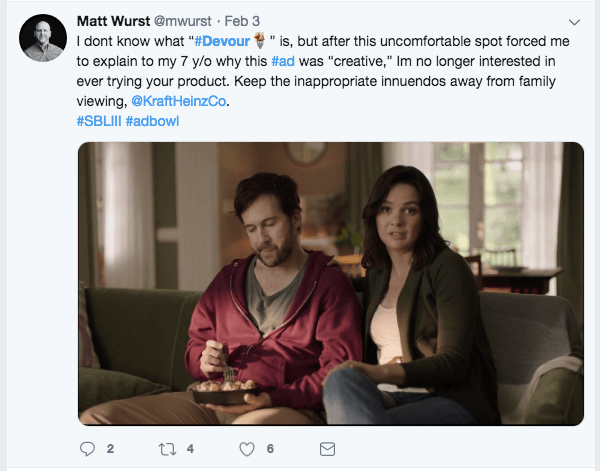 Devour's creative use of Twitter during and after the Super Bowl ad aired is worth checking out. Just remember, it's not everyone's taste.
That's Not Right
One of the more controversial Super Bowl ads came from a brand with an unfamiliar name and a knack for making people angry. As part of their "That's Not Right" series, Mint Mobile revealed their Chunky Milk Super Bowl commercial and viewers were not at all happy. Aired during a time when most American's are stuffed to the brim with pizza and cheese dips, watching a tv family drink a chunky dairy product was just not right. The outrage from viewers was intense and unfortunately relatable.
The Senior Vice President of Marketing and Creative for Mint Mobile, Aron North, told Time, "We expected a reaction. I think this strong of a reaction maybe not. …If it took something as obtuse as chunky-style milk to wake everybody up, I would run it again."
While they definitely stood out and North adamantly stands by the decision to run the ad, you have to wonder if the reaction of the posters on social media will influence decisions when it comes to purchasing new mobile plans. The other videos in the series are just as uncomfortable to watch, proving there was a clear attention-grabbing strategy at play, but will it provide the desired results? We know your name now, Mint Mobile. But, do we like you?
The Take-Away
After seeing the aftermath of three very bold approaches to advertising, a few questions come to mind. How will social media affect your campaign? Are you prepared for the backlash? Do you have enough video content to keep your audience engaged? Are you giving customers the opportunity to join the conversation? Do you have something to say and the social media strategy in place to say it?
"Story without strategy is art. Story with strategy is marketing." – Dave Sutton